Stock Status

: In Stock

Product Condition:
New
Just look at our benefits, Borders pre-sealed, Genesis Tile Trim provided in handy 4ft strips (99% windows less than 4ft) with Matching Corners for a professional finish, Adhesive Spreader/Grout Applicator for fixing tiles, Metal Tile Cutter for cutting tiles, Auto Blade Locking Tape Measure, Tilers Sponge for cleaning tiles when finished, 1 tube of All Purpose Flexible Silicone Sealant in white or ivory, Instruction Guide for fixing tiles, Spacers, extremely high quality Professional Grade Bostik Adhesive and smooth finish Mould Resistant Grout (which our extensive trade base of tilers swear by)
15- 50m2 or Sample Genuine 1st Quality Travertine/Stone Effect Ceramic Gloss 31 x 45 wall tiles complete with 9 linear metres of stunning polished natural stone mosaic border
These wall tiles are manufactured with the incredible new inkjet printing process whereby the pattern in the tile does not repeat for every 100 tiles which will give the effect of a polished natural product but without the price or maintenance issues.
Complete with all you need to tile your bathroom.

20m2 is only £399.95 other sizes available just click on the drop down menu for room size or why not order a sample for only £1.00 (Note: you will not get a full tile)
FREE DELIVERY TO 90% U.K. MAINLAND
Contact us for rates to highlands and islands
What you will get
1st QUALITY Travertine/Stone effect Beige Ceramic Gloss Wall Tiles 310 x 450 x 8mm
1m2 = 7 tiles
High Quality polished travertine/stone mosaic borders (retail price £4.95 each)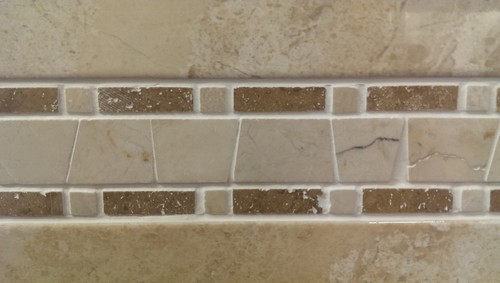 Also Comes with Bostik/Biscem Professional Trade Adhesive, Bostik/Biscem Professional Trade Smooth Finish Mould Resistant Grout (choice of white or Jasmine/Cream), a 600mm Metal Tile Cutter, 2mm spacers, adhesive applicator and grout spreader, tilers Sponge, Tape measure, tiling guide, Silcone sealant (white or Ivory) and tile trim ( choice of white or cream)
Note: if ordering a sample you will not receive a full tile and will get no extras
---
Product Description:
Parthenon Crema 310x450 is a brand new range of medium/large format bathroom wall tiles which are manufactured using the new inkjet technology process where each tile has a unique pattern which are not repeated for every 100 tiles giving a natural stone look but without the price or maintenance issues.
Shipping: FREE DELIVERY TO U.K. MAINLAND
Contact us for rates to highlands and islands
It is sent out on a large vehicle with a tail-lift so suitable access to the property is imperative. The pallet of tiles can only be dropped outside the property and cannot be brought inside by the driver due to health and safety regulations.
Delivery is normally 3-4 days after payment confirmed you will be given the choice of a delivery date.
NOTE: If there is no-one available to take delivery a re-delivery charge of£17.65 will apply